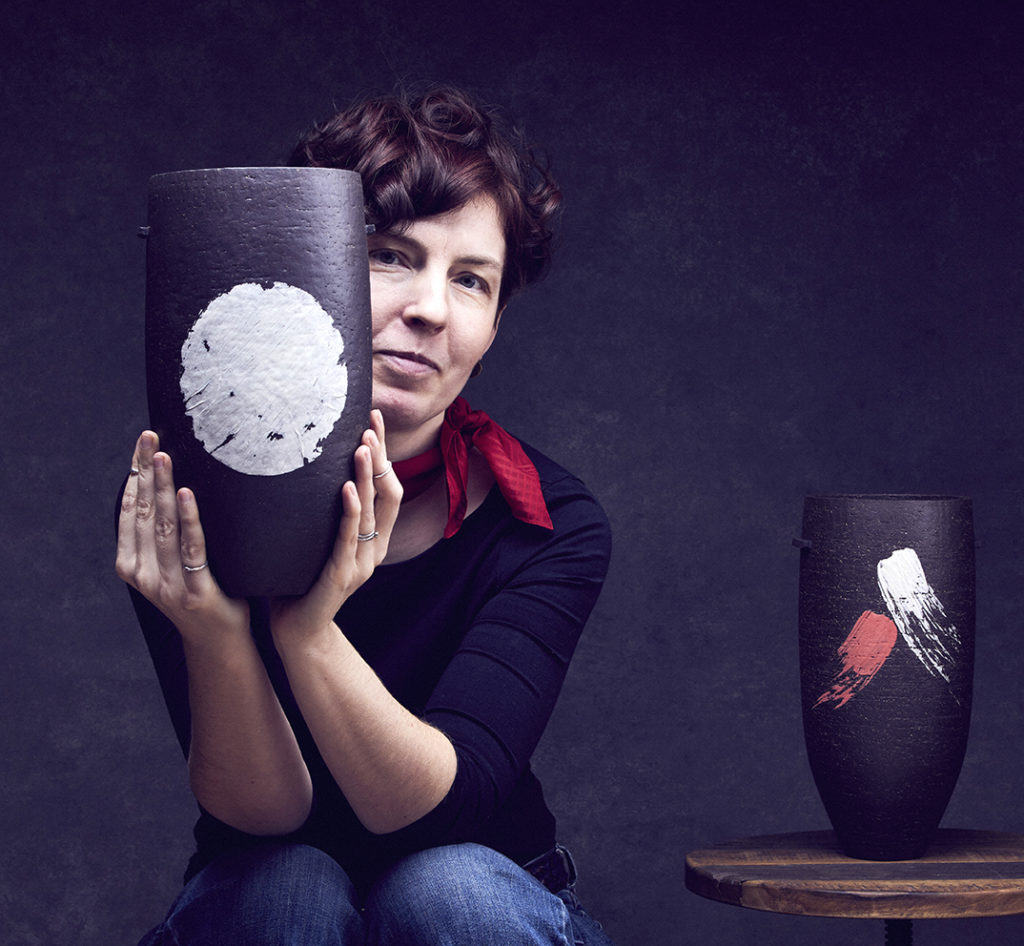 Ania Perkowska is a London based ceramic artist. She creates functional pieces inspired by contrasts and opposites.
Growing up as a child in communist Poland, Ania's life was underpinned by stark grey concrete structures.
Her work draws from the rawness, seeking beauty in simplicity of the form, tactility of the texture. She explores how limitations can inspire and release creativity, as well as the tension between surface and form, between the ordered and the organic. 
She uses geometric forms, minimalistic decoration and natural qualities of the materials, pushing the clay to its limits.
From a distance, Ania's work can appear quiet. It is only when one gets closer, when one touches and holds her pieces that they get to see the detail, feel the texture, experience the surfaces.
Above all, she aspires to capture a sense of joy in handling of objects and transforming them into everyday art.
Ania is a member of Contemporary Applied Arts, Design Nation and Craft Potters Association.
Ania Perkowska's work is also available from number of galleries across UK and online.
Exhibitions and Events:
2022
Contemporary Applied Arts London, New Maker Showcase
Oxford Ceramics Fair
Art in Clay Windsor
Celebrating Ceramics, Waterperry Gardens
Potfest Scotland
Potfest Compton Verney
"Featured Makers – Akiko Hirai & Ania Perkowska" Bevere Gallery
Art in Clay Farnham
Only Clay, Kelham Island Museum Sheffield
Oxford Ceramics Fair
Art in Clay Windsor (formerly Hatfield)
Celebrating Ceramics, Waterperry Gardens
Potfest Compton Verney
"A Natural Christmas" Exhibition Gallerytop, Matlock
A Festival of Ceramics, Devon
Art in Clay Hatfield
Celebrating Ceramics
"Spring Exhibition" Gallery Nine, Bath
Art in Clay Farnham
"Lost Horizons" Exhibition, Studio Vault
Oxford Ceramics Fair
Art in Clay Hatfield
Earth and Fire International Ceramics Fair, Welbeck
Art in Clay Haftield
Poftest in the Pens
Innovations in Ceramic Art, Cambridge
Art in Clay Hatfield
Potfest in the Pens