Contemporary Ceramics Centre in London has recently held an exhibition by the master of raku ceramics: David Roberts.
David Roberts has been by many described as one of the most significant ceramic artists working in Europe today. The origins of his work go back to sixteenth century Japan and the Tea Ceremony. He's the one being acknowledged to be responsible for introducing and promoting large scale raku ceramics in Europe.
Roberts first builds all his work using clay coils. This is one of the oldest pottery making technique. After that he burnishes the surfaces using various slips. Finally he fires the pieces in raku kiln. He completes the process by prolonged smoking and cooling.
Roberts was born in Sheffield in 1947. He was first introduced to ceramics during education degree at Bretton Hall in West Yorkshire. He moved to raku in mid 1970s.
Over the years his ceramics evolved from two elemental forms – a closed containing shape derived from vessels for storage and an open bowl shape derived from vessels for presentation. There is a clear influence and reference to landscape and nature in many if his pieces.
He is not concerned with colour but with the way richness of tonal variation enhances and defines form. These surfaces are derived from two phenomena; the control of crackle patterns and spotting; resulting from the chemical and physical changes to materials that occur during the rapid firing and cooling of the Raku process.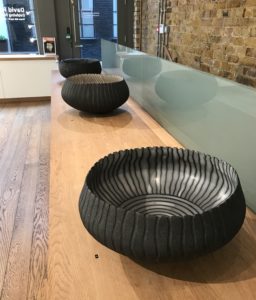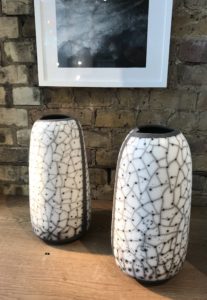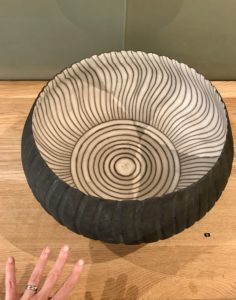 Roberts has been exhibiting in UK and internationally for number of years now. His ceramics is in collection at V&A Museum London, Scottish Museum Edinburgh, Ulster Museum Belfast, Museum of Wales, Bolton Art Gallery, Aberdeen Art Gallery, World Ceramics Centre Itcheon South Korea and many others.
For other ceramic events in UK click here.