Oxford Ceramics Fair is returning to St Edward's for this longstanding event, favourite with makers and buyers alike.
This year Craft Potters Association will present more exhibitors than ever before. As usual, the show will include a full program of talks and demonstrations in the beautiful John Pawson designed pavillion.
Oxford Ceramics Fair presents mainly British studio ceramics but there are European potters as well. It is know for its incredibly high standard of work, very knowledgeable visitors and great atmosphere.
Amongst the exhibitors you will find leading British studio pottery makes. For instance: Anna Lambert, Svend Bayer, Lisa Hammond, Sue Hannah, Tony Laverick, Karen Bunting. In addition, CPA will also present a number of emerging makers. Therefore you can expect an interesting selection of various pottery techniques and styles.
I am delighted to say that will be exhibiting at Oxford Ceramics Fair for the first time!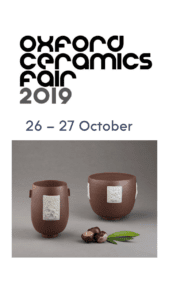 Visiting Information
26th – 27th October
St Edward's School, Oxford, OX2 7NN
St Edward's School is just over a mile from Oxford city centre. There is visitors parking for those driving. Moreover, the school refectory will be open for snacks and hot and cold drinks
Opening Times:
Saturday 10.00 – 17.00
Sunday 10.00 – 17.00
This event tends to get very busy with visitors.
Admission is just £5.00. You can buy tickets at the door or online by visiting: