Now in it's fourth year, Clay: A Festival of Ceramics is a new exciting show taking place in North Devon. Originally it was a series of events organised by Devon Pop Ups, bringing a quality contemporary craft to the area. It was designed to honour the ceramic heritage of the region and to showcase the diversity of talented makers.
The event grew in size and stature over the years. As a result it now includes exhibitors from across the UK. The new venue, Exeter Racecourse is a more central location, with great access for all.
A Festival of Ceramics has a rich programme, including talks, demonstration and National Pottery Lottery.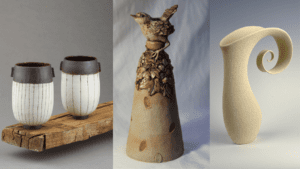 Festival update
Due to Covid-19 and subsequent health & safety concerns as well as restrictions we have postponed our live event to next year and are hosting an online 'VIRTUAL' 2 day event instead.
There will be a series of online demonstrations running throughout both Friday and Saturday. For example: throwing, raku, hand building, slab building, tile making, sgraffito, surface decoration, pit firing, turning, monoprinting and more.
We also have Potter's Question Time with some eminent panellists. It's like the BBC's popular Gardener's Question Time, but instead of plants, we're geeking out over pots. You can submit your questions in advance as well as ask some probing questions live on the day. PQT is being hosted by our friends at Westcountry Potters Association.
In addition, we also invite you to take a sneaky peak inside working studios with our live studio tours and spotlight interviews. Selected artists will be in conversation, talking about their creative life, work and inspirations.
National Pottery Lottery
40 artists from this year's Clay: a VIRTUAL festival of ceramics have donated a piece of work. The tickets are just £2 each (the same price as a national lottery ticket) and you'll be able to buy as few or as many as you choose. Each ticket will give you the chance to win one of our incredible ceramic prizes.
The money raised from the National Pottery Lottery will be distributed evenly amongst our contributing exhibitors and the organiser. Covid19 hit the artists and event organisers very hard, so this is an opportunity to offer your support.
A Festival of Ceramics programme
A full programme with interactive links is available by clicking here
We are looking forward to seeing you this weekend!